ITOOTI are durable, stylish and above all safe sunglasses for children. They provide the highest protection for your child's eyes, and at the same time comfort during their activities. Guarantees 100% protection against the entire UV spectrum (UVA, UVB, UVC). The youngest of children have a lowered natural eye protection against harmful UV, which is why it is so important to support it with good quality sunglasses. With age, the natural UV protection gradually improves.
The lenses are made of Polycarbon, class A (i.e. highest quality virgin material), thanks to which they are resistant not only to impact, but also to scratches. They do not distort colors. In ITOOTI sunglasses, the lens has a clear green colour with the G15 marking, which transmits 15% of visible light, darkens the image, but does not distort colours. This is a great advantage for children who are just learning to recognize colours.
Filter category # 3. According to European standards, ITOOTI sunglasses have category # 3 protection. (There is also category # 4, but glasses with such lenses that darken the image very much are used only in special conditions, such as climbing in the mountains or skiing). The use of glasses darker than category # 3, in "normal" conditions, may cause that the child will not see properly.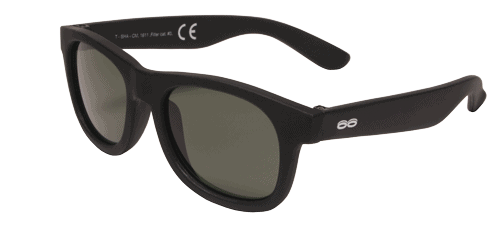 100% UVA, UVB and UVC protection
Lenses protect against the entire spectrum
UV radiation with a sharp cut off at UV400
No colour distortion
The lenses are marked G15, they do not distort colors,
they darken the image but still repreduce the natural colours.
Anti-scratch & Impact resistant
Lenses made of class A polycarbonate (virgin material)
Super flexible frames
The rubber frames can be bent
with no risk of breaking
The super-flexible rubber frames are ideally suited for use by children. They are flexible enough to be bent without breaking. BPA-free - made of materials safe for children.
ITOOTI sunglasses from the TOOTINY CLASSIC collection come in two universal sizes: Small 0+, Medium 3+, Large 7+. The size should be choosen individually since children grow differently.